Lambda Discord Bot
Lambda bot is a user-friendly discord bot that offers you moderation, tickets and more...
Every Discord user needs a bot to be happy. Every single one.\ So, we decided to create a bot that would allow users to decide which features it has. > You decide it. We develop it.
And this is how a discord bot is born.\ And it is born epic.\ Just epic.
Commands
All our commands are constantly being added and improved. You can check the full list using our user-friendly and dynamic /help command.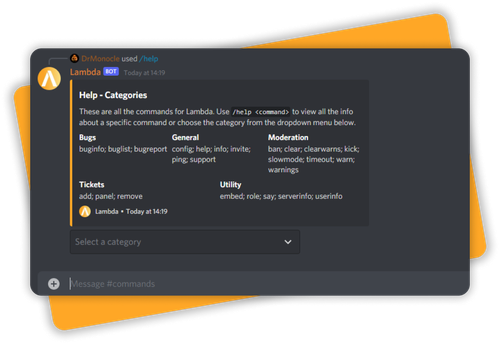 Dashboard
New feature! We have now a modern and clean design dashboard, for you to see some server statistics and configure all the modules. And you can choose between dark and light theme!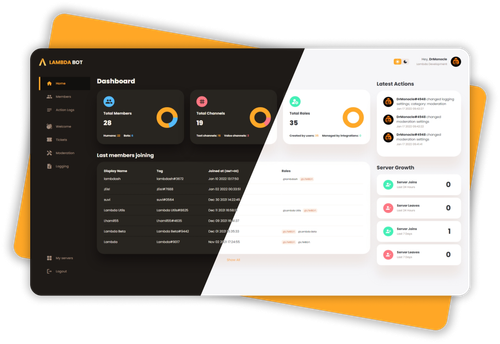 Bug reports
Have you found a bug or an issue? Don't worry, just report them with the /bugreport command and our Team will fix it as soon as possible.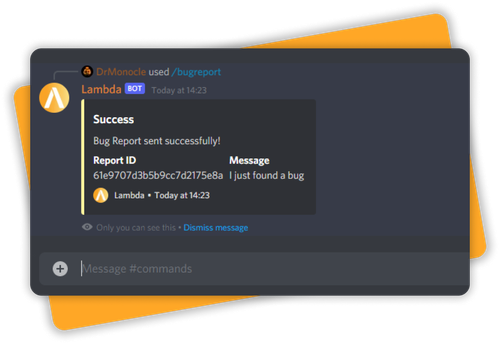 Modules
Our bot provides you:
Moderation commands
Fully customisable logging system
Tickets system with up to 5 categories
Welcome and leave system with autorole
Utility commands for you to improve your server
Much, much more.
Learn more
Clean: A modern design dashboard that you can use to configure the bot and cool embeds.\ Safe: We care about your privacy. There is only one human that can access to the database.\ Powerful: Powerful features to manage and moderate your server and your members.\ Quick & Easy to Use: Dynamic help menu that will allow you to get info about a command with just one click.\ Modern design Dashboard: Don't worry about the configuration, with our dashboard it's easy to setup and configure the bot.\ Report Bugs and Misfunctions: Our bot doesn't have issues because you can report ever bug you find with a command, and we will fix it as soon as possible.